In September 2019 Facebook announced it's policy to not fact check political ads. Is Facebook responsible for the information on it's site? There is a long standing law relating to the internet that if you are a platform where people post content you are not responsible or liable for that content; even if it is published anonymously.  Review sites and especially negative review sites have hidden behind this law for over a decade and been supported by the courts with judges publicly criticizing the practices of such sites Ripoff Report is a big example of this. 
Here is a article written by Aaron Minc  of Minc Law: http://bit.ly/362QLGK 
"The Ripoff RoadWhen I was growing up, I remember hearing about the dangers lurking on Interstate 75, which runs from Michigan to Florida. It used to be called "Ripoff Road" because of all the sleazy service stations that preyed on tourists heading south.
While checking under the hood, a pump jockey would put Alka Seltzer tablets in the battery, and wait for the explosion so he could sell the motorist a new battery.  Consumer protection investigators caught I-75 mechanics spraying barbecue sauce on car alternators and using surgical instruments to slash tires, all so they could turn around and sell new parts and services to the drivers whose cars they'd sabotaged.
I started thinking about businesses that profit out of problems that they themselves have created as I was preparing to write about Ripoff Report.
Ripoff Report is famous, or infamous, for running reviews on products and services. The reviews are invariably negative and they rank very high on Google searches. But Ripoff Report doesn't fact check the reviews before publishing them. "Who are we to say what is true or not?," Ripoff Report says on its site. "We are not a judge and jury." And after publication, Ripoff Report stubbornly digs in its heels about editing or deleting reviews if they are wrong. While the target of a false or negative review does have a couple of options for responding that don't involve contracting services from Ripoff Report, these alternatives tend to be ineffective.
Of course, Ripoff Report tries to cast its activities in a spunky, populist light. Ripoff Report says it's all for the average guy and gal against the businesses who would do him or her wrong. The site is peppered with fiery slogans:
"By consumers, for consumers."
"Don't let them get away with it!."
"Let the truth be known!"
That last slogan is rather ironic, because Ripoff Report acknowledges it lacks "the internal resources" to ensure that the posts on the site are truthful. A good number of the posts aren't accurate and they cause real grief for victims, often small businesses that aren't well equipped to fight back.
A 2013 story in Forbes magazine did an excellent job of tracking down business owners and others who say they were unfairly maligned by Ripoff Report reviews and who were suffering dire consequences. There's a record company that witnessed several defections by artists after a band that was unhappy with a contract attacked it on Ripoff Report; an interior designer who said a bad Ripoff Report review caused her business to collapse and who was forced to start renting out rooms to make ends meet; and a software company which saw revenues sliced by two-thirds after being run through the Ripoff Report wringer.
Ripoff Report even allows highly personal attacks like the one on the woman named Robin who was accused of passing AIDS onto four men. Her picture was posted alongside the slur.
To really counter the damage done by Ripoff Report, you have to pay Ripoff Report to enter into the "reputation management" program it offers. Either that, or hire a lawyer to try to get a court takedown order—which Ripoff Report may or may not recognize.
Granted, the analogy between Ripoff Road and Ripoff Report isn't perfect. After all, Ripoff Report doesn't actually write the negative reviews. The site just publishes them. But Ripoff Report profits handsomely by playing the role of enabler, taking advantage of internet law that doesn't hold websites accountable for what they publish, the way that say, newspapers, can be called to account with libel suits.
Whatever you might say about Ripoff Report, it's impossible to ignore it. The site claims more than 250,000 visitors a day and over 100 million visitors annually.
In the post that follows, I'll delve into how Ripoff Report operates, the options the site offers those targeted by negative reviews and what you should do if you wind up getting raked over the coals on Ripoff Report. And, at the end of this article, I go over a tactic that is the real legal solution to actually getting Ripoff Reports completely and fully removed from the Internet, not just search results.
My main advice, however, is to plan your strategy carefully and consult qualified legal counsel, and if possible, businesses that have gone through the same situation. While Ripoff Report offers the right of rebuttal to reviewed businesses free of charge, that's an option that may do more harm than good, in most cases.
America's Worst Websites
A few years ago, when Fox's O'Reilly Factor was the most popular news show on cable TV, it ran a segment on "The Worst Websites in America." The very first website nominated by a tech journalist on the Fox panel was Rip Off Report. "Anybody can smear a company," O'Reilly said, summing things up, after the expert had finished her presentation. "This website doesn't check out whether the smear's legitimate or not. They post the smear. If the company wants the smear off, they gotta' pony up. It's extortion."
Bill may be oversimplifying Ripoff Report's practices a little, but he was pretty close to being on target.
Ed Magedson spoke to this blog by phone and derided most media portrayals of him and Ripoff Report as "fake news." He says profits aren't his fundamental motivation. Magedson says Ripoff Reports spends more money and time vetting reviews than it is given credit for and his staunch refusal to take down posts has cost him money-making opportunities. "Ripoff Report is not getting rich," he says. "No way Jose is Ripoff Report getting rich. I'm not getting money from it. I had money before this. I was retired. I don't need to be doing this." (See other excerpts from the interview elsewhere in this blog.)
But Courts have also been sharply critical of Ripoff Report, which is owned by Tempe, Arizona-based Xcentric Ventures, LLC,  even when ruling in its favor. In 2011, Florida's Third District Court of Appeals reviewed a case where Ripoff Report printed false and defamatory information about the operator of a drug treatment center, saying the owner was a convicted felon and that the employees illegally distribute medication. The court issued a scathing evaluation of Ripoff Report's methodology.
"The business practices of Xcentric, as presented by the evidence before this Court, are appalling," the opinion said. "Xcentric appears to pride itself on having created a forum for defamation. No checks are in place to ensure that only reliable information is publicized.
Xcentric retains no general counsel to determine whether its users are availing themselves of its services for the purpose of tortious or illegal conduct. Even when, as here, a user regrets what she has posted and takes every effort to retract it, Xcentric refuses to allow it."
Nevertheless, the court was compelled to rule in Ripoff Report's favor because the law was on its side. "However much as this Court may disapprove of business practices like those embraced by Xcentric, the law on this issue is clear," the opinion stated. "Xcentric enjoys complete immunity from any action brought against it as a result of the postings of third party users of its website."
The law that applies to Ripoff Report is Section 230 of the Communications Decency Act. The law states that sites like Ripoff Report aren't publishers, like newspapers, which could be sued for libel for printing falsehoods. Rather, the law treats Ripoff Report and sites as carriers, like Google or Yahoo, which aren't legally liable for what outsiders post on the site. As long as Ripoff Report itself doesn't edit or embellish a post, it cannot be sued for defamation.
The Mystery Man Behind Ripoff Report
Ed Magedson has become an almost mythic figure due to his zeal in keeping his whereabouts a mystery. One businessman who had been attacked on Ripoff Report got frustrated with not being able to locate Magedson to serve him with a lawsuit. So the businessman offered a $20,000 reward for information on Magedson's whereabouts.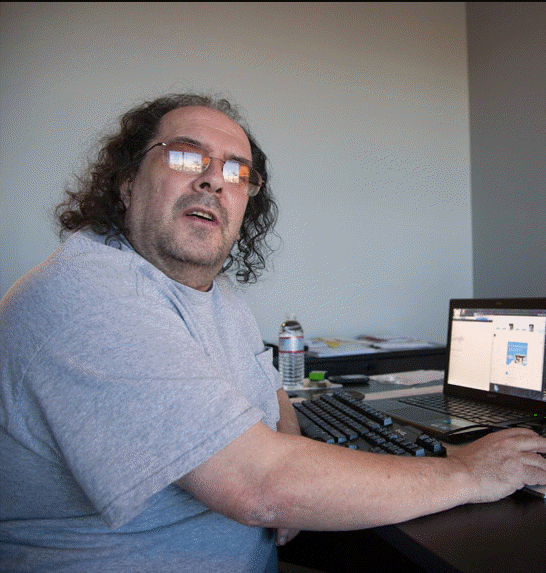 Forbes' enterprising Adam Tanner tracked him down in 2013 and provided a fascinating portrait of an online rabble-rouser. I'll quote a passage of his report at length:
"Ed Magedson lives at a secret location in Arizona, convinced that some people not only fantasize about killing him but would actually do so if they got the chance. His home – he has moved repeatedly in recent years — sits fortified behind fences with cameras watching for intruders. He makes special arrangements to dispose of trash lest enemies go through his detritus. He worries that a stray hair could leave behind DNA clues. He records his phone conversations, and if he meets a new person, sometimes hires bodyguards to sit nearby.
Magedson agrees to meet in the flesh at a temporary office in the Phoenix area — provided I do not reveal his exact whereabouts. He wears a gray T shirt and track pants over his corpulent frame, several day old stubble, a Benjamin Franklin look with balding head and flowing locks to his shoulders, and lightly tinted frameless glasses. "I wouldn't be doing a good job if I didn't have people who hated me," he says. "Nobody gets onto to Ripoff Report because they didn't do something to somebody."
"Is there anyone who is getting stuff written about them that is false? Sure," he continues. But "ninety nine percent of the time there is some truth in it."  His uncompromising stance as the head of his company called Xcentric Ventures has provoked a stream of angry letters and lawsuits. "Usually a day or week doesn't go by that I don't get a threat of a lawsuit," he says with pride. He has paid more than $5 million in legal bills over the years, adding that Ripoff Report has been sued more than 70 times but never lost a U.S. case or "paid one dime to anyone ever." His litigation attorney David Gingras says they did lose a 2003 case in the Caribbean island nation of St. Kitts and Nevis.  "
Magedson may be eccentric, as the corporate name implies, but he's laughing all the way to the bank:
"The site generates several million dollars of revenue a year, the company says. Here's how it makes its money. Criticized firms can pay a flat fee based on the volume of complaints received about them. It can be as low as $5,500 but some firms have paid more than $100,000. The money pays for inspectors to verify that complaints have been resolved, and then the site injects a new headline and lengthy text above the original complaint. Magedson says he gets about 40 new customers every month. If complaints return, the site strips off the positive headline and copy. ""
Katie Couric grilled Sheryl Sandberg on Facebook's decision not to fact-check political ads (FB) http://bit.ly/32HTm6z